MATCHMAKER SAN FRANCISCO
Matchmaking with real people who are ready for meaningful connections.
Match with people who are just as ready for a relationship as you are.
There are many options to consider when trying to find the best dating service for your needs and lifestyle. Matchmaking may be the perfect choice for you if you feel like you've tried everything. Or if you live such a busy life that dating just does not fit into it well. Our San Francisco matchmaking services can offer you a more effective way of finding a serious relationship. Many single people get caught up in the games of people who aren't taking dating seriously, which is where we come in. Our dating experts will find the most compatible men or women for you, who are as ready to find love as you are.
HOW OUR MATCHMAKING SERVICES WORK
Your traits, likes, dislikes, lifestyle, priorities, etc. are all analyzed and considered when finding a potential match. Our matchmakers in San Francisco are experienced in the psychology behind dating and relationships, and their knowledge is extremely successful in helping people find compatible partners. Dating in the Bay Area can be hard, but with the help of an experienced matchmaker, you might finally be able to find what you've been searching for.
ATTENTION
Dating shouldn't be complicated, and we are focused on making your experience easy and pleasurable. You will receive special attention and focus from a personal matchmaker who will spend time getting to know you and your needs.
EFFORT
100% effort, care, intuition, and passion for selecting the right person for you. We take our time and spend hours searching, pre-screening, and interviewing many people who fit your criteria.
CONNECTION
Our goal is to provide you with quality matches who have gone through our process to give you the best chance at forming a real connection. Personalized dating experience that helps you meet people with the same relationship goals.
---
Why is it so hard to find a quality match?
The sad truth is that modern dating has shifted from an emphasis on forming deep, personal connections to superficial flings. Many people in this day and age seem to have little interest in face-to-face, meaningful interactions, which makes finding a potential match difficult when you're looking for a long-lasting relationship. You can spend countless weeks, months, or even years searching for "the one," just to be trapped in an endless cycle of break-ups because you're only finding people who are not taking dating seriously.
---
Why matchmaking?
Making the real connections happen. Our goal is to find people who are compatible with you and have the best potential to be a long-term partner. We are able to communicate questions and concerns that you've always had before getting into a relationship. Matchmaking services help you break the cycle of disappointing flings and find a truly meaningful relationship with someone special.
---
MATCHMAKER NEAR SAN FRANCISCO BAY AREA
Many singles turn to dating apps and social media messaging to find potential partners. Too often are these strategies used for flings and ulterior motives. It's important to know that it's through no fault of your own that you have not been able to find a successful relationship. Growing up, we are not taught how to find love. It's something we often have to learn on our own. With the ever-changing world of dating, this seems almost impossible. This is why our Bay Area San Francisco matchmakers are always studying the ways in which people connect. They use their knowledge to match single men and women with compatible partners, and relieve the stress that dating can often create.
Try a Professional dating service and begin a new chapter in your life!
Luvidya's vibrant members are looking to meet their mates!
---
JUSTIN AND KATERINA
We met Lucie back in 2016 when she introduced us. Justin and I immediately fell in love with each other. Not only was dating suddenly possible, but our faith in good people and love was restored. Lucie made this all happened and we are forever grateful for her help and talent.
We are getting married at the end of June 2018, we found a real connection, love, partnership, and much more in each other. We appreciate Lucie's talent and her strong will, honesty, and dedication. She helped us create something very unique and we will always be very thankful for her and what she has done for us.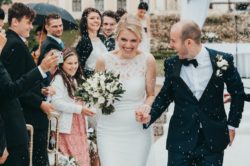 ---