TESTIMONIALS
WHAT OUR CLIENTS SAY ABOUT US
Our son, a virgin at age 25 after years of rejection on- and off-line, was bitter and afraid about his prospects for having a relationship. We were confused, as he was attractive, creative, funny, talented and, while not tall, tall enough at five-ten. His creativity did lead, though, to eccentric aspects—clothes he made himself, a bushy red beard, a lack of interest in social media, and so forth. While we did encourage him to 'conform' to expectations of his peer group, it was not until he chose Lucie, among several coach options, that his life began to change. She quickly knew what his qualities were, and how to collaborate with him to present them in a way that didn't go against his values, and didn't scare off young women—women who, frankly, seemed cautious and overly concerned with appearing 'normal'. His dress, grooming, social and media presentation, and especially his patience, were all optimized by Lucie in a friendly and confident way. She communicated with us far beyond the minimum, and got us all through. It took eight months. They seem like nothing compared to the years of struggle!
– Client (wants to keep son's privacy)
You saved me from two years of heartache. I've learned so much from you in just two hours. I didn't have the necessary tools before, but now, I feel empowered.
– A. A.
Lucie has provided me invaluable advice and feedback, to create dating profiles. Her advice has already helped me meet more people and I look forward to elaborating on this review once I find a long-term partner and can more fully reflect on how Lucie helped me find this person.
– David Miller Shevelev
I just wanted to check in and say thanks. I have enjoyed your services which reminded me of who I was.
– R.L.
Lucie is smart and definitely knows her stuff when it comes to dating. She makes me feel confident and capable when I'm out on dates. Lucie is concrete and specific in her feedback and advice.
– Bradley Arsenault
I highly recommend Lucie for dating profile advice and photography services. We took pictures for about an hour today, and there are already TWO photos from that batch which are my most highly rated on Photofeeler. She also advised me on what to include, and not include, on my profile–as a guy, I previously had some things on my profile which she pointed out might not be well received by women. Overall, I would say that Lucie was pretty on the mark with her services, and I feel that my money today was well spent. I plan on reaching back out to Lucie with any inquiries going forward.
– Connor Smith
Lucie is very on point she was able to identify what was missing and how to improve after adjusting my approach results immediately followed
– Anthony Ilyaichi
Lucie thank you for all your coaching lessons. I'm looking forward to developing further as an individual under your guidance.
– U.P. (28)
When I first started dating in my 40's, Lucy was there for me. She helped me become confident, see my strengths, and improve on my weaknesses. I was clueless – and learned so much from her, spending the next few years successfully dating, and am now in an amazing relationship with an amazing woman. If you need help with the ins and outs of dating – or just someone to talk to about relationships, Lucie is your woman.
– Nick (47)
I came to Lucie for help in my search for a long-term partner. I had a really precise and elaborated vision of the woman I wanted to share my life with. Lucie found the needle in a haystack in record timing. She has a very analytical and intuitive approach to matchmaking that produces great results. I could feel all along the process that she was caring about my happiness.
– R.R. (33)
We are getting married at the end of June 2018, we found a real connection, love, partnership, and much more in each other. We appreciate Lucie's talent and her strong will, honesty, and dedication. She helped us create something very unique and we will always be very thankful for her and what she has done for us."
"We met Lucie back in 2016 when she introduced us. Justin and I immediately fell in love with each other. Not only was dating suddenly possible, but our faith in good people and love was restored. Lucie made this all happened and we are forever grateful for her help and talent.
– Justin and Katka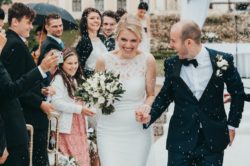 "Lucie naturally sees when someone is in need of help, and I don't even think she realizes it. What I'm most impressed by is how influential and powerful she is, and how pleased she was to see me grow through her process. During our sessions, I gained a higher self-esteem, grew a greater appreciation for my own life and my value to women, and now I truly feel like I am better equipped to find a life partner. THANK YOU!"
– Peter (42)
"I had a delightful day with Lucie, revamping my wardrobe, shopping, talking all things about relationships and dating. She is fun and very easy to talk to about anything. She gives a wonderful insight into how a man can best present himself. Whether it is to merely update one's personal style, or whether it is to do a complete makeover on one's whole social being, I recommend her strongly to any man."
– Charles (53)
"I have always found Lucie to be very supportive, available, encouraging, non-judgmental and wanting to help me to reach my goals. She is trustworthy and works in a highly ethical way and I felt that I could trust her within a very short time of working with her."
– Ash (45)
"Lucie is a qualified quality dating coach who has helped hundreds of clients become more successful in love including me. She is insightful and empathetic with real-world experience. Her advice helped me become more self-aware and successful in the dating world. I have Lucie to credit for my boyfriend Robin and I celebrated our one year anniversary. Lucie is a true professional who I highly recommend. "
– Laura (42)
I greatly appreciate your calm, attentive, and caring assistance. It's really helping me find myself, grow, and blossom! Thank you.
– Wendy (43)
"Lucie has changed my life. Now, I don't want to sound melodramatic, but I was the typical computer geek that had gotten a divorce and had absolutely no social skills or contacts at all. I was so buried in my work. It was rather sad, actually. I met Lucie and I'm grateful to say that she changed my life. I enjoy my social life, meet new people, and I finally found myself. Lucie always made me feel very comfortable, I would recommend her to anyone who is looking to improve their life."
– Robert (31)
"Hiring a Dating Coach is a real investment in time and money and should be carefully considered. I decided to hire Lucie based on some extremely insightful things she told me about dating, specifically: do's and don'ts, what questions to ask girls, how to answer certain questions, how to act, and even how long a first date should be. I was going on a lot of dates. sometimes as many as two per day. Sometimes I would even have a girl cancel on me, and then a girl I forgot about would message me and take that new spot. So you might be wondering: why would someone as successful as me would hire a Dating Coach?
I had just gotten out of an over seven year marriage and was back on the market. I figured that if you want to do something, you'd better do it right. My career was going well, so the next area I wanted to improve was dating and finding a meaningful relationship.
Here are a few reasons I wanted to "go pro" and improve my dating life:
I wasn't escalating early and often (This one was so important for me); Dates were going on for too long; I was messaging too much (real time sink); I wasn't seeing signs early enough; I wasn't "holding my ground" & "standing up for myself"; I wasn't as confident as I could be; I wasn't doing things like connecting with women at bars. Dating is not taught in school. Without a coach, you can waste time and resources, lose confidence and spin your wheels… even for years.
Would you take a week-long workshop to improve your skills at your job? Would you attend a convention? So why not take Lucie's 10-hour package, as I did, and learn important interpersonal skills that will last a lifetime?
I came out of those ten hours with a completely new perspective on myself, dating and how I relate to women. Now I'm more confident. I say and do things more efficiently, understand how I feel and think with women and more importantly: I Take Action!
I am also happy to say that reached my goal and have found a meaningful new relationship.
– Jonah (33)